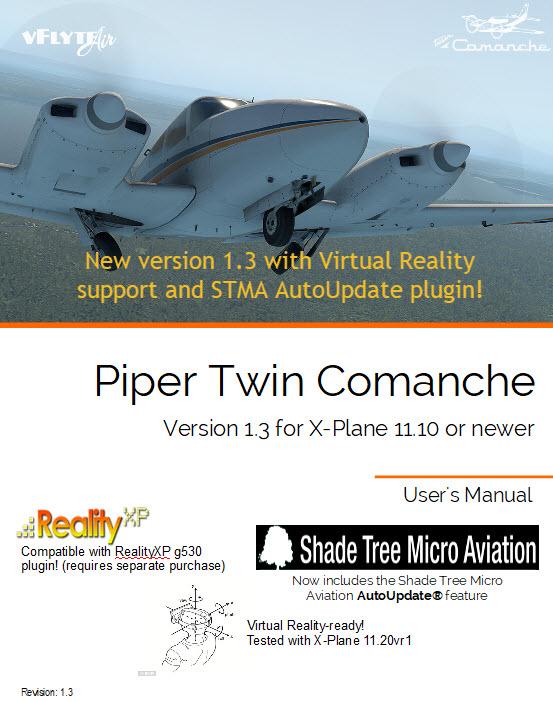 Our Piper Twin Comanche is now updated to version 1.3
New features include:
Full Virtual Reality support for X-Plane 11.20vr1 - includes teleport hot spots and xPad "magnets" on the yokes
Shade Tree Micro Aviation AutoUpdate plugin included - your Twin Comanche stays up to date every time you load it!
New FMOD engine sounds from an actual Lycoming engine
"Save-state" preferences - your Options selections, swtich settings and menu sizes and positions are saved when you unload the aircraft, and restored the next time you load. Over 55 different settings are saved.
Major bug fixes include re-designed autopilot, and many more!
Requires X-Plane 11.10 or newer. Virtual Reality requires X-Plane 11.20vr1 release and either Oculus Rift or HTC Vive VR gear.
Welcome to the vFlyteAir Official Web Site
We are proud to offer quality general aviation add-on aircraft models for the X-Plane community. We hope you'll take a few minutes to explore our current fleet of aircraft - we think you'll discover an immersive level of realism with our high-quality models. Click on the "EXPLORE OUR FLEET" link above, or click the product images below to see full descriptions and photo galleries of all of our models.
Cirrus SR20
Featuring a sophisticated simulation of the Cirrus Perspective(tm) avionics package (created by Mario Donick for vFlyteAir), the SR20 model is compatible with X-Plane 11. The newest version has custom airfoils, propeller and flight modeling by Alan Shafto of AeroSimGaming. New FMOD sounds and PBR textures provide the best in X-Plane 11 realism!
Piper PA28R-201 Arrow III
Ready for X-Plane 11, our Arrow III has super hi-res PBR textures and a highly detailed animated model! Fly GPS flight plans and ILS approaches with the Laminar Research g430. A realistic GTX327 transponder with four different timer modes, dual OBS gauges and a digital VOR instrument help make this a very capable instrument-flight bird. The Arrow III is a complex GA aircraft with 200HP Lycoming engine and retractable gear.
Piper PA28-140 Cherokee 140 Glass Panel Version
Based on our Cherokee 140 Original version, the Glass Panel model features a simulated Aspen EFD 1000 primary flight display (created by Mario Donick) and is IFR capable. Our Cherokee 140 models are updated for X-Plane 11 with PBR textures and retuned flight performance.
Ryan Navion Super 260
Navions were used in military service for years, and were converted for civilian use after the war. With a warbird-style sliding canopy and a 260HP engine, our Navion model is equipped with a modern instrument panel and is ready for IFR and VFR flight. The panel features a Garmin GDU620 PFD/MFD combination created by Mario Donick. Several military liveries are included. Updated for X-Plane 11 compatibility.
Grumman AA5 Traveler
Our Grumman Traveler AA5 model has been updated with new X-Plane 11 PBR textures. The Traveler features an STEC System 30 autopilot integrated with the Turn/Bank indicator, dual COM and NAV radios, ADF, DME. The Traveler does not have a GPS, so if you are looking for RNAV and GPS flight planning, try the Grumman Tiger model! The Traveler is great fun for basic IFR and VFR navigation.
Piper PA30 Twin Comanche
Our new Twin Comanche is purpose-built for X-Plane 11! New FMOD sounds, PBR hi-res textures, XLUA custom plugin programming and much more! Avionics include a Garmin (X-Plane) g530, realistic Avidyne GTX340 Transponder, Radar Altimeter, HSI, Piper AutoFlite III autopilot, OBS 2, COM2/NAV2 radio, Digital Fuel Flow Monitor, Audio Panel, Altimeter, EGT/CHT gauge with selectable cylinders, tachometer, MAP, Altimeter, ASI
Piper PA28-140 Cherokee 140 Classic Version
Based on our Cherokee 140 Original version, the Classic model is IFR capable and has an autopilot and GPS. You can fly ILS and RNAV approaches with the Classic version, as well as GPS flight plans Our Cherokee 140 models are updated for X-Plane 11 with PBR textures and retuned flight performance.
Piper PA28-140 Cherokee 140 Original Version
Our Cherokee 140 Original was modeled from the real-world Cherokee, tail number N3466K, which I have personally flown on several occasions. The Original is a VFR-only model with traditional analog instruments. If you are looking for a realistic simulator trainer, or simply enjoy VFR flying, this is the model for you!
Grumman AA5B Tiger
Featuring the original factory-created Bengal Tiger paint scheme, our Grumman Tiger model was modeled from a real-world example located in Texas, USA. Fly IFR and VFR with this model - it comes with an STEC System 30 autopilot intergrated with the Turn/Bank indicator, X-Plane g430 GPS, custom GTX327 transponder, a Terra NAV OBS, HSI, EDM 700 engine monitor and much more! X-Plane 11 ready!