Welcome to vFlyteAir Simulations!
We are proud to offer quality general aviation add-on aircraft models for the X-Plane community. We hope you'll take a few minutes to explore our current fleet of aircraft - we think you'll discover an immersive level of realism with our high-quality models. Click on the "EXPLORE OUR FLEET" link above, or click the product images below to see full descriptions and photo galleries of all of our models.
New Release! Ikarus C42C for X-Plane 11
Click on the image above to see photos and more information
Our own Mario Donick has been taking his flight lessons in the Ikarus C42C (tail numbers D-MSYF and D-MNLN) for the past few months, so we leveraged his knowledge and hands-on experience to create a replica of his two primary trainers. In June 2018, Mario and his friend recorded almost 100 original sound recordings from the real-world D-MSYF and we used all of the sounds in the FMOD configuration for this aircraft. Because Mario flies a real Ikarus C42C, we took great pains to make this model as realistic as possible. Mario provided guidance along the way as to how the real airplane behaves in all aspects of flight.
Loaded with features, the model comes with two panel configurations - a "basic trainer" and a "full panel" version.
The "basic trainer" is a near replica of D-MSYF, and has a very basic instrument panel with a KRT2 COM radio, Electronic Tachometer, Altimeter, Airspeed indicator, Variometer (Vertical Velocity Indicator), Trim indicator, Magnetic Compass and engine gauges (no NAV radio). Depending on your Options choice, gauges display either metric or imperial units.
The "full panel" version adds more instrumentation, including a Transponder, a simulated flymap L EFIS/GPS, a simulated FLARM traffic monitor and a Rotax FLYdat engine monitor. Like the "basic trainer" version, there is no NAV radio - however, it is possible to create a simple 5-leg GPS flight plan using the "vfamap L" with up to 5 legs. The "vfamap L" also provides a moving-map display that shows your GPS flight plan (uses the X-Plane moving map), and an electronic artificial horizon that also displays the next way point information.

Both versions are optimized for VR flight, and both include features such as German/English language option, Metric/Imperial gauge option, a virtual, interactive pre-flight walk-around, user-customizable charts that can be "stitched together" to create a large, scrollable chart, pop-out gauges for easier viewing and control, male or female copilot option, pop-up check list, and a virtual "kneeboard" with an Options menu that allows to you select your preferences and remove the ground elements. Custom HDR lighting, PBR rendering effects, highly detailed animation, high-resolution textures, and a realistic ballistic parachute (BRS) round out this feature-rich airplane. A 28-page User Manual is provided.
We thank Mario's flight training school flugschule-md.de for their interest and cooperation with this project.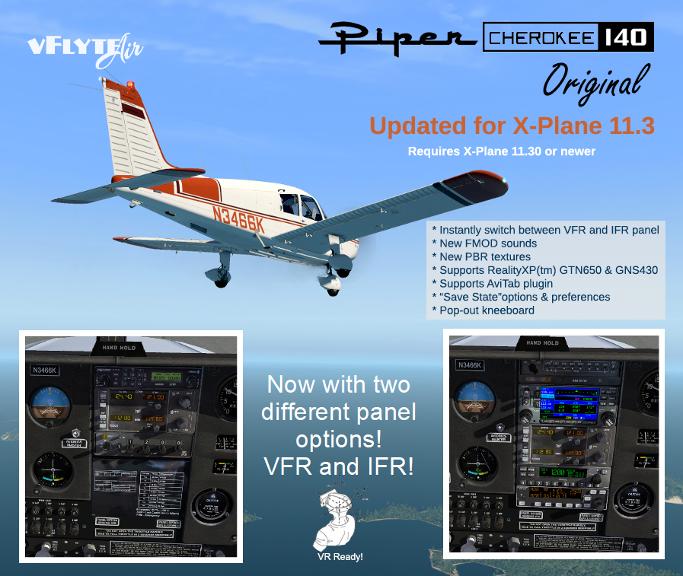 Completely rebuilt for X-Plane 11.30+, the Cherokee 140 Original now features two different panels; the original VFR trainer panel, and a new IFR panel with g430 GPS, Avidyne AXP 340 Transponder and KAP 140 Autopilot. Switch between panels mid-flight! Click on the image above for more photos.
Other new features include:
New FMOD sounds
"Save State" options, settings and preferences
Pop-out Kneeboard with Options and Re-fueling
Virtual Reality optimized
New PBR textures for interior
Automatic support for RealityXP(tm) GTN 650 and GNS 430 plugins
Integrated support for AviTab tablet plugin
Improved flight model
Partial Panel Practice - place "INOP" placards (with secondary instrument hints) over the gauges
ShadeTree Micro Aviation Autoupdate plugin included - keeps your copy up to date!
Improved animations with new button-press animations and new X-Plane 11.30 animations
Same great hi-res textures and super detailed model
Check out this comprehensive review of the Cherokee 140 Original by Angelique van Campen of
https://www.x-plained.com/aircraft-review-vflyteair-cherokee-140-original/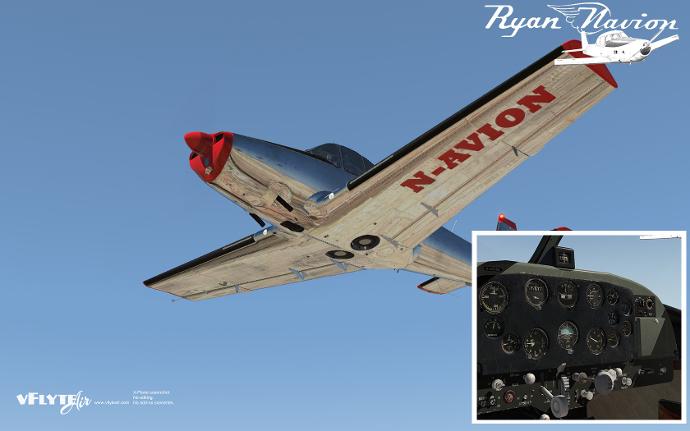 NEW FREE MODEL! You can download our new Ryan Navion 205 Vintage model for X-Plane 11 for free!
Yes, that's right! We are making this 1950 Navion 205 available as a free model for X-Plane. This vintage beauty features period-correct gauges, VR compatibility, FMOD sounds, PBR textures, custom HDR lighting and custom autopilot. Immerse yourself in the golden oldie days of aviation with this classic model. The instrument panel is arranged according to the actual 1950 Ryan Navion POH. You'll love the time-worn look of the Navion with its leather seats, aged glass and well-worn interior. But she still flies great!
Click on the image above to see more photos of the Navion 205, and to get to the download. Also available on X-Plane.org at https://forums.x-plane.org/index.php?/files/file/48223-vflyteair-ryan-navion-205-vintage-freeware/
Cirrus SR20
Featuring a sophisticated simulation of the Cirrus Perspective(tm) avionics package (created by Mario Donick for vFlyteAir), the SR20 model is compatible with X-Plane 11. The newest version has custom airfoils, propeller and flight modeling by Alan Shafto of AeroSimGaming. New FMOD sounds and PBR textures provide the best in X-Plane 11 realism!
Piper PA28R-201 Arrow III
Ready for X-Plane 11, our Arrow III has support for VR flight,super hi-res PBR textures and a highly detailed animated model! Fly GPS flight plans and ILS approaches with the Laminar Research g430. A realistic GTX327 transponder with four different timer modes, dual OBS gauges and a digital VOR instrument help make this a very capable instrument-flight bird. The Arrow III is a complex GA aircraft with 200HP Lycoming engine and retractable gear.
Piper PA28-140 Cherokee 140 Glass Panel Version
Based on our Cherokee 140 Original version, the Glass Panel model features a simulated Aspen EFD 1000 primary flight display (created by Mario Donick) and is IFR capable. Our Cherokee 140 models are updated for X-Plane 11 with PBR textures and retuned flight performance.
Grumman AA5 Traveler
Our Grumman Traveler AA5 model has been updated with new X-Plane 11 PBR textures. The Traveler features an STEC System 30 autopilot integrated with the Turn/Bank indicator, dual COM and NAV radios, ADF, DME. The Traveler does not have a GPS, so if you are looking for RNAV and GPS flight planning, try the Grumman Tiger model! The Traveler is great fun for basic IFR and VFR navigation.
Piper PA30 Twin Comanche
Our Twin Comanche is purpose-built for X-Plane 11! Now supports VR.New FMOD sounds, PBR hi-res textures, XLUA custom plugin programming and much more! Avionics include a Garmin (X-Plane) g530, realistic Avidyne GTX340 Transponder, Radar Altimeter, HSI, Piper AutoFlite III autopilot, OBS 2, COM2/NAV2 radio, Digital Fuel Flow Monitor, Audio Panel, Altimeter, EGT/CHT gauge with selectable cylinders, tachometer, MAP, Altimeter, ASI
Piper PA28-140 Cherokee 140 Classic Version
Based on our Cherokee 140 Original version, the Classic model is IFR capable and has an autopilot and GPS. You can fly ILS and RNAV approaches with the Classic version, as well as GPS flight plans Our Cherokee 140 models are updated for X-Plane 11 with PBR textures and retuned flight performance.
Piper PA28-140 Cherokee 140 Original Version
Our Cherokee 140 Original was modeled from the real-world Cherokee, tail number N3466K, which I have personally flown on several occasions. The Original is a VFR-only model with traditional analog instruments. If you are looking for a realistic simulator trainer, or simply enjoy VFR flying, this is the model for you!
Grumman AA5B Tiger
Featuring the original factory-created Bengal Tiger paint scheme, our Grumman Tiger model was modeled from a real-world example located in Texas, USA. Fly IFR and VFR with this model - it comes with an STEC System 30 autopilot intergrated with the Turn/Bank indicator, X-Plane g430 GPS, custom GTX327 transponder, a Terra NAV OBS, HSI, EDM 700 engine monitor and much more! X-Plane 11 ready!