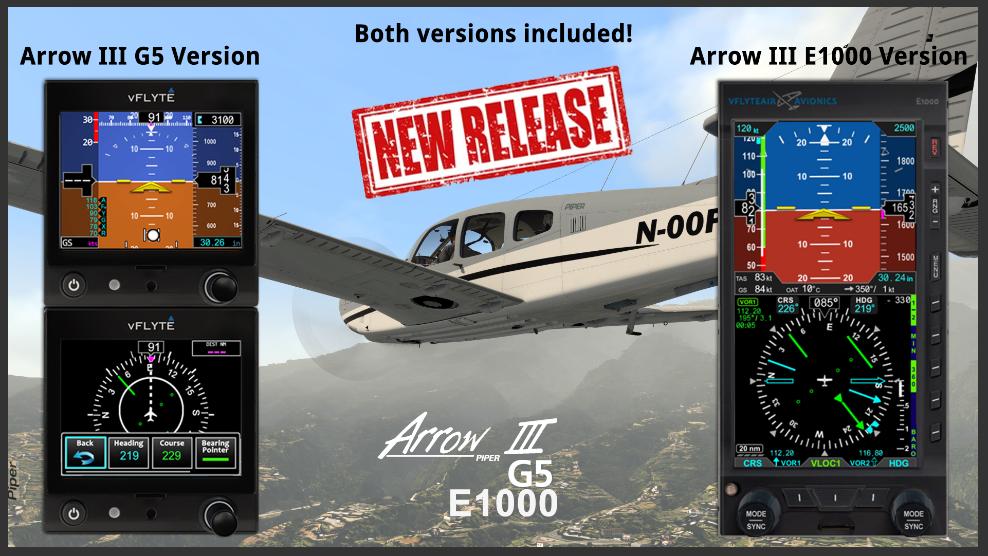 New Release - Piper Arrow III G5 / E1000!
Attention Existing vFlyteAir Piper Arrow III Owners!
*You can purchase the new copy for a deeply discounted upgrade price of only $12.00 USD! Customers of our web site will receive an email within the next three weeks with instructions on how to obtain the new version, along with a License Key.
* We are obliged to charge a small upgrade cost to cover our 3rd party license fees
Check out the video of the new Arrow III G5/E1000 produced by X-Plane.org:
Our new version of the Piper Arrow III featuring our custom-built Garmin G5 and Aspen E1000 simulations (no add-on plugins needed) is here!!
Completely rebuilt from the ground up, the new Arrow III has modern laser-cut instrument panels with our own G5 PFD/HSI combination built by vFlyteAir. We believe our G5 simulation is the best available for X-Plane. No 3rd party plugins are required for the G5 version - we custom-programmed our own G5 simulation with assistance from a Certified Flight Instructor who specializes in transitioning pilots from analog-gauge panels to glass-panel flying. For those who prefer flying with an Aspen EFD1000 glass panel, your purchase includes our E1000 version featuring our custom Aspen EFD1000 simulation. Both versions are included with your purchase. Both the G5 and E1000 instruments can be "popped out" of the panels as X-Plane context windows which can be displayed on a separate monitor. The G5 version comes with a Garmin GFC500 autopilot, which integrates with both the G5 PFD unit and can be "popped out" to an X-Plane Context Window. The E1000 version comes with a KFC230 touch-screen autopilot which can also be "popped out" to a window.
Customers who purchase the Arrow III G5 E1000 model will receive free upgrades when X-Plane 12 is released.
Features
GFC500 Autopilot with Electronic Stability Protection (ESP)and integration with G5 PFD
Fully featured custom G5 simulation - can be "popped out" as an X-Plane Context Window or Operating System window for display on a separate monitor. Supports VR. No 3rd party plugins required!
Fully featured Aspen E1000 simulation - can be "popped out" as an X-Plane Context Window or Operating System window for display on a separate monitor. Supports VR. No 3rd party plugins required!
Optimized for X-Plane Experimental Flight Model
New laser-cut instrument panels with new white and grey leather interior
Both models included in your purchase
Pop-out windows provided for GFC500/GMC507 autopilot controller, GI275 EIS Engine Monitor and KFC 230 Touch-Screen autopilot
Fully featured Options Menu with Normal Procedures check lists
Custom Tow Tractor Feature - call for a tow and drive it yourself!

Fully animated pilot, copilot and passengers

FMOD sounds
PBR textures throughout
8 different liveries included
Click on the product images to see the full gallery
Cherokee 140 Modern Panel Version
Choose either the traditional analog-gauge panel or the glass panel that features Mario Donick's Aspen E1000 primary flight display. Both panel options are IFR capable