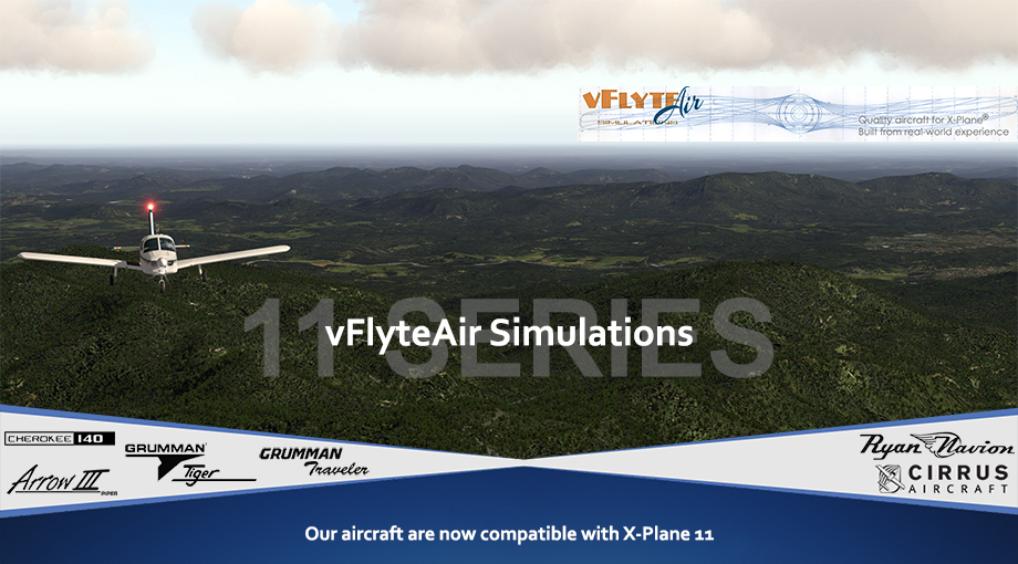 We've created new versions of all of our models to provide basic compatibility with X-Plane 11. When you purchase any of our models, you can download the X-Plane 10 or X-Plane 11 version (or both). We have designated all of our X-Plane 11 compatible versions as "Beta 1" because they are not yet "feature-complete" (no FMOD sounds yet).
These Beta 1 releases provide the following updates for X-Plane compatibility:
- New NORMAL textures for exterior objects to provide X-Plane 11 compatible surface reflections and specular highlights
- Modified OBJ object files to support the new surface reflections and specular highlights
- New exterior and interior glass objects to support reflections and specular highlights
- New X-Plane 11 style icons designed for the Flight Configurator
- Modified various settings in PlaneMaker 11 to improve performance in X-Plane 11
What's missing for X-Plane 11?
- Our models do not yet support the new X-Plane 11 FMOD sound engine (the SASL plugin sounds still work in X-Plane 11)
- Conversion of plugin code to the natively-supported XLUA plugin is not finished
Be sure to choose the correct version of this vFlyteAir model for installation. Choose the "version 11Beta1" for X-Plane 11 and install them to the "X-Plane 11/Aircraft" folder.
Thank you for being a vFlyteAir Customer!
If you already own of our X-Plane 10 compatible models, you can update it for X-Plane 11 compatibility by downloading and installing the appropriate Patch Kit. See below for links to download the Patch Kits.

Our newest Piper Cherokee variant is now available, featuring an Aspen E1000 Primary Flight Display (by Mario Donick), and fully-modernized "glass panel" including the g530 and g430 GPS units (X-Plane instruments), a custom Garmin GTX327 transponder and custom STEC 55x autopilot.
This Cherokee 140 "G" is instrument-flight capable - the autopilot will track VOR, GPS, Heading, Altitude, Vertical Speed, ILS Approach and GPS RNAV Approach. Use the Aspen PFD to set your autopilot heading, altitude, and OBS tracking.
Click the banner above to see the screen shots! NOTE: vFlyteAir Cherokee owners, please contact us for a special discount on the new Glass-panel version!
"Best General Aviation Aircraft - 2016"
Our Cherokee 140 C and O models were just named "Best General Aviation Aircraft" in Stephen Dutton's "The Year in Review" at X-PlaneReviews.com! Come inside and check them out for yourself!
UPDATED! Our updates to the entire vFlyteAir fleet are now complete with the Grumman Traveler AA5 model Loaded with our latest features, you'll love the new Traveler! Click on the image at right to see the screen shots ------->>>>>>>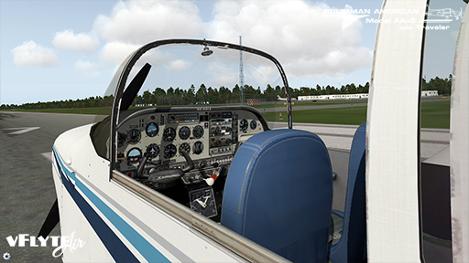 Take 15% off your entire purchase when buying two or more vFlyteAir Products! Valid only at vFlyteAir.com
Use Coupon Code LFDAHLPTKD4L
Our new 10.50-compatible models are ready with mouse scroll-wheel support and other great new features!
The following models have been upgraded, and are now compatible with X-Plane 10.50:
Piper Arrow III - version 4.0
Cherokee 140 ORIGINAL & CLASSIC versions - version 2.0
Ryan Navion - version 2.0
Cirrus SR20 - version 2.0
Grumman Tiger AA-5B - version 4.0
Grumman Traveler AA-5 - version 3.0
About the upcoming X-Plane 11: Our models do work in X-Plane 11, but we have not fully tested them, so we cannot yet guarantee compatibility with X-Plane 11. For now, please use our models in X-Plane 11 at your own risk.We are working on creating patch kits that will add surface reflections and other X-Plane 11 PBR features, and will make those available as soon as we can.