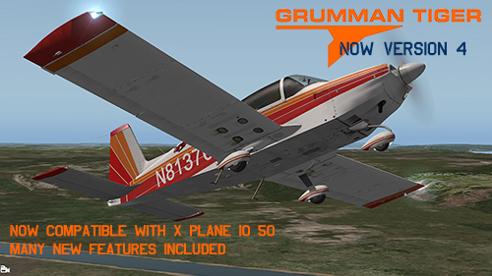 Requires X-Plane 10.50 or newer. Microsoft Windows users: Microsoft C++ Redistributable required for the SASL plugin to work properly
Our Grumman Tiger AA-5B model has been updated!
The Tiger is now X-Plane 10.50 compatible, and has many new features in version 4.0 including:
- X-Plane 10.50+ Compatible
- New mouse scroll-wheel support for cockpit manipulators
- New HDR-compatible custom interior lights (requires HDR ON)
- New HDR_compatible custom exterior lights
- Custom engine startup logic
- Custom GTX327 Transponder with 4-function display
- Animated ignition key
- Radio volumes individually controlled
- Terra NAV OBS 2 improved with more realistic features (FLAG indicator, LOC and GPS indicators)
- New digital OAT display
- Improved STEC 30 AP with more realistic behavior - now allows GPS flight plan following, ILS and GPS RNAV approaches
- Added rain and ice-textured glass objects
- Simulated "Satellite" music
- New custom sounds with situation-aware effects
Are you ready for X-Plane 10.50?
Our new 10.50-compatible models are ready with mouse scroll-wheel support and other great new features!
JUST RELEASED - The following models have been upgraded, and are now compatible with X-Plane 10.50:
Piper Arrow III - version 4.0
Cherokee 140 ORIGINAL & CLASSIC versions - version 2.0
Ryan Navion - version 2.0
Cirrus SR20 - version 2.0
Grumman Tiger AA-5B - version 4.0
Grumman Traveler - coming soon!
Take 15% off your entire purchase when buying two or more vFlyteAir Products! Valid only at vFlyteAir.com
Use Coupon Code LFDAHLPTKD4L
All of our models listed above now support X-Plane 10.50's new scroll-wheel manipulators and separate controls for COM and NAV radio volumes. We've also added other new features!
These new versions require x-plane 10.50 or newer!
The new versions will not run properly under older versions of X-Plane - please make sure you have X-Plane 10.50 or newer before purchasing the above models.
Click on the images below to select the new X-Plane 10.50-compatible versions. Scroll down the page for the older versions.
Haven't upgraded to X-Plane 10.50 yet? No problem - our previous versions below work just great in all X-Plane 10 versions! Click any of the images below to select the older versions.