De Havilland DHC-3T Turbo Otter
At the end of 2019, vFlyteAir acquired the rights to the Military Visualizations (Milviz) Turbo Otter model. As a primary co-developer in the project, we wanted to make sure this excellent model was well-supported going forward.
The Turbo Otter comes in 3 different configurations; wheels version, amphibious version and floats version. Powered by the Pratt Whitney PT6-34 turbine engine, the Turbo Otter has 750HP for STOL take-offs and water take-offs. The Turbo Otter has three different panel configurations to choose from. Custom sounds by SimAcoustics provide an immersive experience, complete with the sounds of turbo-prop beta and reverse. Five genuine liveries are provided. A pop-out menu comes complete with options selections, selectable passenger and cargo loading, dynamic weight & balance, fuel loading and livery selection.
The Turbo Otter is a faithful simulation of the turbo-prop PT6-34 retrofit for the Otter. The wheels version has optional skis that can be added for landing in snowy climes. The Turbo Otter is a highly detailed, authentic representation of the actual DHC-3T. Instrument panel, tailwheel operation, fuel transfer, portable oxygen system and authentic hand-pump operation of the flaps and landing gear (amphib version) provide an immersive experience in this work horse of the aviation world.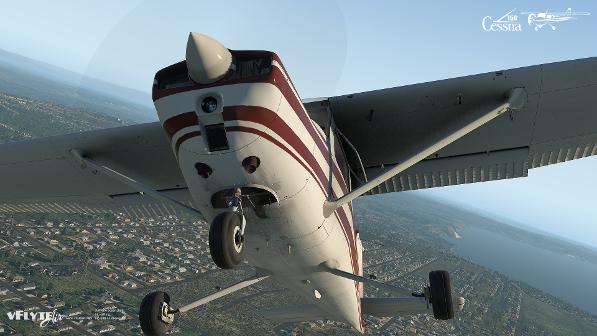 Cessna 150 Commuter with Two Panel Options
One of the most popular training aircraft of all time, our Cessna 150 Commuter is a great choice for those who love GA flying. Your choice of either a basic trainer instrument panel (six-pack, one COM/NAV radio, transponder, and OBS) or the "Commuter" panel which includes a KMA20 audio panel, KX165A COM1/NAV1 radio, KX165 COM2/NAV2 radio, KT76 transponder, KN62A DME and a simulated Cessna Navomatic 330A single-axis autopilot. With support for animated rain and ice effects courtesy of the librain plugin by Skislekov and the avitab plugin, your commuter jaunts are covered! Custom, original sound recordings by SimAcoustics provide 100% genuine Cessna 150 engine sounds and other authentic sound effects
Features include shake effects which occur on engine startup, engine shutdown, stalls, and landings (shake effects can be turned off), choice of male or female pilot, custom engine startup which forces the pilot to use the primer, mixture and throttle according the POH, optional wheel fairings, and a pop-out kneeboard with adjustable pilot and copilot weight, luggage weight and fuel. A dynamic weight & balance chart helps to ensure that your loading is within CG limits. The kneeboard also has normal procedures check lists. For added realism, you can pull your C150 out of the hangar using the tow bar.
Piper Cherokee 140 Modern (two different panels in one model)
Our Modern version of our popular Cherokee 140features two different panels that are selectable in-flight. The analog-gauge panel option is a traditional round-gauge layout with a full-featured radio stack including GPS, COM2/NAV2 radio, transponder, KAP140 dual-axis autopilot, ADF and DME. The glass-panel option features an updated version of Mario Donick's Aspen E1000 PFD with pop-out viewing. The glass-panel option also has GPS, COM2/NAV2 radio, transponder, KAP140 dual-axis autopilot, ADF and DME.
New features include librain rain and ice effects, pop-out kneeboard with Options and re-fueling, ShadeTree Micro Aviation's Autoupdate plugin, FMOD sounds, hi-res PBR textures, integrated support for RealityXP(tm) GTN650 and G430 GPS (purchased separately), integrated support for the AviTab plugin, "save-state" preferences. and ready for VR flight!
Ikarus C42C
A brand-new addition to the fleet, the Ikarus C42C is a very popular ultra-light trainer built in Germany. Modeled from the real-world D-MYSF, which our very own Mario Donick flies for his student pilot training! Almost 100 original sound recordings were made from D-MYSF to create a highly immersive FMOD sound experience for this model. Two models are included; the "Basic Trainer" is a replica of the real D-MYSF - it has a basic VFR panel and is perfect for practicing your pilotage skills and visual navigation. The "Full Panel" version adds a simulated flymap L glass panel display with a simple GPS flight planner, artificial horizon and moving-map display. Also included with the Full Panel version is a transponder and simulated FLARM traffic monitor.
The Ikarus C42C is classified in the USA as a Light Sport Aircraft and in Europe as an UltraLight aircraft. The fabric-covered wings and empennage are semi-transparent, and the model has great PBR texture effects throughout. Be sure to try the Pre-Flight Inspection walk-around with interactive check lists!
Piper PA30 Twin Comanche
Our new Twin Comanche is purpose-built for X-Plane 11! New FMOD sounds, PBR hi-res textures, XLUA custom plugin programming and much more! The Twin Comanche is VR compatible.Our Twin Comanche is modeled from a real-world example located in Texas, USA. The Twin Comanche is ILS-capable.
100% X-Plane 11 compatible! Click the picture at left to see the full gallery.
Avionics include a Garmin (X-Plane) g530, realistic Avidyne GTX340 Transponder, Radar Altimeter, HSI, Piper AutoFlite III autopilot, OBS 2, COM2/NAV2 radio, Digital Fuel Flow Monitor, Audio Panel, Altimeter, EGT/CHT gauge with selectable cylinders, tachometer, MAP, Altimeter, ASI
Cirrus SR20 for X-Plane 11
Now updated to version 2.6, the SR20 is even better with Virtual Reality support! Compatible with X-Plane 11.10 or newer (VR requires X-Plane 11.20b3 or newer), the new version has custom airfoils, propeller and flight modeling by Alan Shafto of AeroSimGaming. New FMOD sounds and PBR textures provide the best in X-Plane 11 realism! The electrical system is modeled per the Cirrus SR20 POH electrical schematic. Click on the screen shot at left to view the full gallery.
The SR20 model features a glass panel instrumentation modeled after the Perspective (tm) system found in the real Cirrus SR20 . The Perspective system is an adaptation of the Garmin G1000 display. This simulation has many working features, and was created by Mario Donick. Version 2.5 added limited support for choosing procedures (SIDs, STARs and Approaches). The moving map display is now more readable with larger icons and text labels.
Piper Arrow III
Recently updated to version 5.1, the Arrow III is now compatible with X-Plane 11.20b3 or newer for Virtual Reality flight!. The Arrow III now features a "convertible" instrument panel - choose between the traditional analog instrument panel or fly with the simulated Aspen EFD 1000 glass panel (by Mario Donick). You can even change panels on the fly! We also provide compatibility with RealityXP's GNS430 and GTN650 plugins (requires separate purchase from Reality-xp.com).
A new menu system allows you choose Options, set up the airplane Weight & Balance, and use interactive, automated Check Lists. Your options and preferences are saved each time you fly, and they are restored the next time you fly the Arrow III.
Piper Cherokee 140 Original - now with two different panel options!
The vFlyteAir Simulations Piper Cherokee 140 Original has been updated for X-Plane 11.30+ ! The Cherokee 140 Original now has two different panels; the original VFR-only panel, and a new IFR panel with Garmin G430, Avidyne AXP 340 multi-function transponder with ADS-B OUT, and a KAP 140 autopilot. You can instantly switch between panels, even mid-flight!
Other features included in this update are:
Virtual Reality ready
FMOD sounds
New pop-out Kneeboard with Options menu
"Save State" Preferences, - switch settings, options and preferences are saved each time you fly, and are reloaded the next time you fly
New interior PBR textures
Improved animations using new X-Plane datarefs, including new push-button animations
"INOP" placards now include hints for secondary gauges
Automatic and integrated support for RealityXP(tm) GTN 650 and GNS 430 plugins (must be configured as Unit #1)
Integrated support for AviTab plugin
Flight model and ground handling improvements
Now has the STMA Autoupdate plugin included - keeps your copy up to date automatically each time you load the airplane
Grumman Tiger
A real classic, the Grumman Tiger saw some service in military operations early in its history and was later redesigned for civilian service. The Tiger was an evolution of the Grumman AA-5 model (see the Traveler below). It is a low-wing, fixed-pitch propeller airplane with a sliding canopy. The Tiger was first produced in 1974 as a 1975 model. Shown at left is the original livery specially designed for the Tiger when it was first released to the public.
The Tiger has an STEC System 30 autopilot integrated into the Turn Coordinator insrument, Garmin 430 GPS (X-Plane), custom Garmin GTX327 transponder, custom TerraNAV OBS, Directional Gyro, Artificial Horizon and a custom JPI EDM 700 Engine Monitor.
With hi-res textures and highly detailed animations and modeling, the Tiger is a real joy to fly. We modeled the Tiger partially from a real-world example located in Texas.
Grumman Traveler
The little sister to the Grumman Tiger, the Traveler AA-5 was itself an evolution of the American Aviation two-seat AA-1 Yankee. First produced in 1971, the Traveler was soon sold to Grumman Aircraft. Originally intended to be a competitor to the Cessna 172 as a trainer aircraft, the Traveler did not enjoy the same success as the 172. The Traveler was known to be too "hot" for student pilots, and required more attention to energy management, especially on landings.
The Traveler's instrument panel includes the usual required six-pack gauge cluster, along with an autopilot, ADF, Directional Gyro, transponder, DME, COM1 and COM2, and NAV1 radios.