Piper Twin Comanche for X-Plane 12
Not compatible with older versions of X-Plane - please see the "X-Plane 11 Models" page for older versions
Special Discount for owners of older versions of the vFlyteAir Twin Comanche!
Contact support@vflyteair.com to request your discount code for the X-Plane 12 version
Piper Twin Comanche for X-Plane 12
Our new Twin Comanche is purpose-built for X-Plane 12! New FMOD2 sounds, re-worked flight model for XP12, new popup menu system and lots of new features!
100% X-Plane 12 compatible! Runs on PC and Mac platforms including newer Apple Silicon models (M1 and M2 chipsets)
Two panel options available:
The "Glass Panel" features dual Garmin G5s (compatible with RealSimGear G5 hardware), GFC500 autopilot, TXi touch-screen EIS, GNC255 COM/NAV radio with reverse-lookup capability, Laminar Research GNS 530 GPS with automatic support for the RealityXP GTN 750 plugin, radio altimeter, ADF receiver, transponder and DME. Many instruments can be popped out to sizeable, movable windows which can by displayed on separate monitors.
The "Steam Gauges" panel is for those who prefer flying with analog primary gauges. The "Steam Gauges" panel replaces the G5 units with an artificial horizon and HSI. The autopilot is a KAP-140 dual-axis. Engine instruments are original analog.
Special Features:
Popup menu system with Options page, Load Manager page with dynamic Weight & Balance chart, and a Check Lists page with all normal procedures check lists

FMOD 2 sound package for 3-D spatial sound effects

Custom "Shake Effects" simulate engine vibration and airframe vibration caused by engine shutdown, touch-down on landing and stalls

PBR textures used throughout -glass and shiny surfaces use the new X-Plane reflection and specularity effects

Tip Tanks are standard for extra range

13 different liveries included
Emergency gear operation modeled
Fuel tank selector and fuel logic uses new X-Plane 12 features (supports separate selection of each fuel tank)
Exterior lighting uses new X-Pane 12 lighting system
Custom HDR lighting, interior and exterior
Compatible with the RealityXP gns530 plugin and RealityXP GTN 750 plugin (see Reality-XP.com for purchase) - INI file included for the gns530 and GTN 750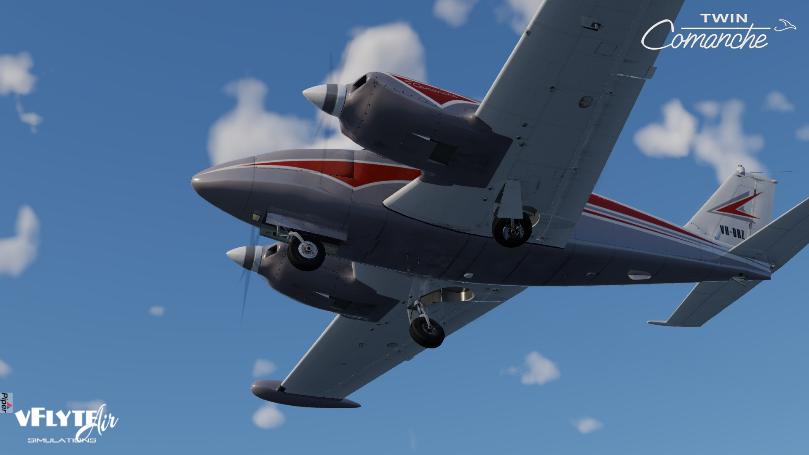 Special Features (cont'd):
Guided interactive pre-flight walk-around

Selectable male or female pilot figure



Built-in support for the AviTab plugin (downloadable separately)
Fuel Tank Selector icons on the Options Menu allows easy fuel tank switching without searching for the floor-mounted selectors
Tie-downs, wheel chocks and cowl plugs can be toggled off/on from the Options Menu
Selectable Start from Cold and Dark option
Click on the pilot's headset (hanging from the window sill) to reduce exterior noise by approximately 12 dB
Custom Tow Bar feature allows you to tow the aircraft by pulling/pushing the tow bar handle
Pilot and passenger figures for all four seats - use the Load Manager menu to add passengers and cargo
Animated pilot and copilot
User Manuals included for the Twin Comanche and all custom instruments
Keep your Twin Comanche up to date with the SkunkCrafts Updater (separate download)
Download the Skunkcrafts Updater here to keep your Twin Comanche updated