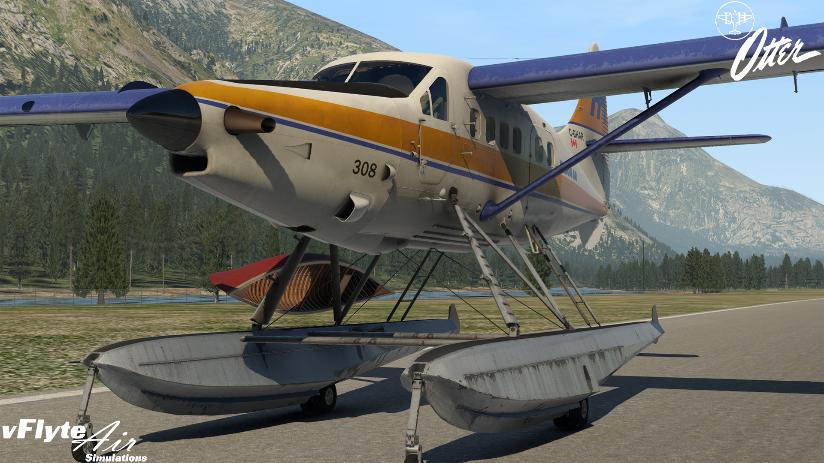 We are pleased to announce that vFlyteAir Simulations has acquired the rights to the Milviz DHC-3T Turbo Otter for X-Plane!
We will be supporting and improving the Turbo Otter from this point forward, and we are proud to offer the X-Plane community this venerable work horse of the aviation industry.

The Turbo Otter comes in three configurations; wheels, amphibious and floats. Five real-world liveries are included. Realistic passengers and cargo loading with dynamically calculated weight and balance add to the immersive experience. Choose from three different radio panel configurations, and change your radio panel configuration in-flight if desired.
The DHC-3T Turbo Otter is available exclusively at the X-Plane.org store. Click the logo below to visit the Turbo Otter product page.
Customers who previously purchased the Milviz version can upgrade to the new vFlyteAir version for only $7.00 USD by contacting sales@x-plane.org.

Scroll down to see the full gallery
Features:
Professionally created & tuned, high fidelity flight model including accurate characteristics specific to the DHC-3T with the PT6-34 turbo engine.
Richly detailed cabin with beautiful high-resolution textures and smoothly animated gauges.
Professionally created liveries based on or inspired by real world aircraft.
Three body configurations: Standard Wheels, Floats, Amphibious Floats, each with carefully tuned flight models.
Multiple loadout configurations, including passengers and cargo.
Carefully replicated engine controls, response, and instrumentation readouts.
Functional and realistic emergency power lever, power lever beta gate, safety guard on condition lever.
Realistic flap operation portraying the unique hydraulic hand pump and pump selector.
Realistic tailwheel operation, including locked, powered, and free-castoring.
Carefully replicated fuel management simulation, with only the center tank supplying the engine and transfer controls required to access fuel in front and rear tanks.
Three different avionics arrangements, with provision made for RealityXP GPS units (not included), default X-Plane GPS units, and no-GPS radio stack. Two of the three arrangements are located on a kick-out panel for better pilot access.
Highly detailed KAP 140 autopilot simulation, closely replicating the real-life unit in operation and usage.
Extremely detailed sound environment by Sim Acoustics, leveraging the powerful FMOD system with rich engine sounds and a full sound environment that includes prop wash, brakes, stall buffeting, cockpit switches, weather effects, and more.
Ability to completely hide yoke and column for ease of access to important switches and controls.
Integrated AviTab plugin support